SHIP YOUR SCALA CODE
OFTEN AND EASY WITH DOCKER
presentation
Your awesome Scala applications deserve an equally elegant solution for deployment. Docker has gotten great traction in the DevOps world, and rightly so, as it is a powerful, robust and friendly tool.
In this talk Marcus shares his experiences in using the power of Scala and Docker to enable continuous delivery of new functionality to tens of thousands of business customers. Don't miss this chance to see a live demonstration of these tools and hear how they are used in the wild, as well as see some supporting open source projects from Marcus and others and how they can be combined in powerful ways.
You don't need any previous knowledge of Docker to follow along.
Learn:
How to build Docker images easily from sbt
Deploying images and managing containers from Scala
Real-world tips and tricks for running Scala applications as containers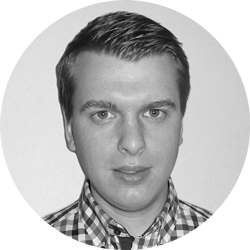 MARCUS LÖNNBERG
Marcus Lönnberg is a Scala hacker with Swedens largest online accounting solution provider SpeedLedger with several open source projects for Scala and Docker. He is a co-founder of the Docker Göteborg Meetup group and has presented at conferences and Meetups.